Instrument and equipment disinfection warehouse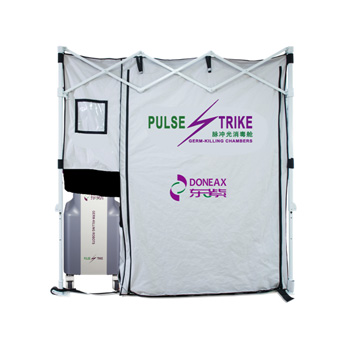 Product Details
Pulsein-c1 of Dongzi's pulse strong light instrument and equipment disinfection cabin is powered by pulsein-d, a pulsestrike 360 sterilization robot, which can easily disinfect mobile and reusable instruments and equipment in a 5-minute fast cycle, comprehensively reduce the microbial load on the surface of the instrument and equipment, and effectively fight against C. diff, MRSA, CRE, VRE and other drug-resistant bacteria.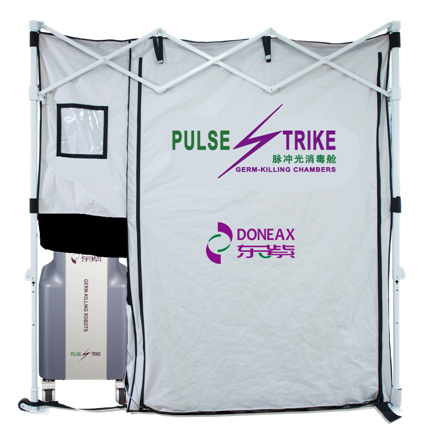 product advantages
① Help hospitals and other places to disinfect various high contact instruments and equipment, such as portable x-machine, ventilator, ultrasound equipment, vital signs monitor, wheelchair and mobile workstation, etc.
② With pulsestrike 360's light-emitting technology and high reflection aluminum surface, pulse xenon strong light is scattered, 360 degree coverage, even small angle and cracks can be taken into account.
③ Light weight, foldable, durable and in line with fire protection standards, small assembly and occupation space, easy to move and assemble, all disinfection preparations can be completed in just a few minutes, suitable for small space and corridor use.
Saving millions of yuan, greatly reducing the cost of infection control institutions;
④ It's lethal to all pathogens. No pathogen has immunity to pulsed light
Capable of killing all kinds of important diseases in 5 minutes with comprehensive microbial load on the surface of instruments and equipment
Protobacteria such as methicillin resistant Staphylococcus aureus (MRSA) and vancomycin resistant Enterococcus
(VRE), multiple resistant Acinetobacter, etc.
⑤ Cold light irradiation technology, environmental protection, no damage to instruments and equipment.
Typical application scenarios
① All kinds of instruments and equipment in medical institutions, such as wheelchair, ventilator, mobile equipment, etc
② Equipment, tools and other supplies of newborn bed and neonatology department
③ All kinds of things to be disinfected for reuse include treatment table, treatment vehicle, etc
Pulsein-d, the pulsestrike 360 sterilization robot of Dongzi, combined with high reflection aluminum cloth cabin, is suitable for moving anywhere. Even in a narrow space, it is also convenient for construction and use. It is suitable for surface disinfection of various shapes and sizes of instruments and equipment.